No tricks this month, readers, it's all treats as we draw close our capes and drop the best graphic novels into your plastic pumpkins.
Across 500-plus pages, Katie Green's memoir intricately and both softly and sharply details her struggle with eating disorders. An illness of the mind made manifest wreaks havoc on her body and family life, as a squiggly darkness battles Green's attempts to expunge. It's grim reading but with her struggle also comes, thankfully, a tale of recovery. In selecting it as one of our editors' picks for
Best Books of October
, Adrian Liang wrote, "The impact of Katie's loneliness and constant, low-level despair drives deep into the soul but paradoxically will open your own heart and eyes. You'll finish this determined to look more closely at your friends and loved ones—and especially your children—to make sure you're not missing what's masked by a benign surface."
Originally a DIY guide for her daughter on how to navigate New York City, beloved cartoonist Roz Chast's latest work is now part guidebook, part anxiety-ridden how-not-to, and all must-read. After moving from Manhattan to Brooklyn and eventually settling down to Connecticut,
Going Into Town
reads like a fond remembrance of an old flame but without the rose-tinted glasses (it is subtitled
A Love Letter to New York
, after all). My favorite bit of advice involves bus-riding: "Make sure you board the one that starts with 'M' or you'll wind up in Queens or the Bronx or some other place that's not in Manhattan." Because is there life outside Manhattan, and if there is, is it worth living? Spoken like a true New Yorker (pun intended).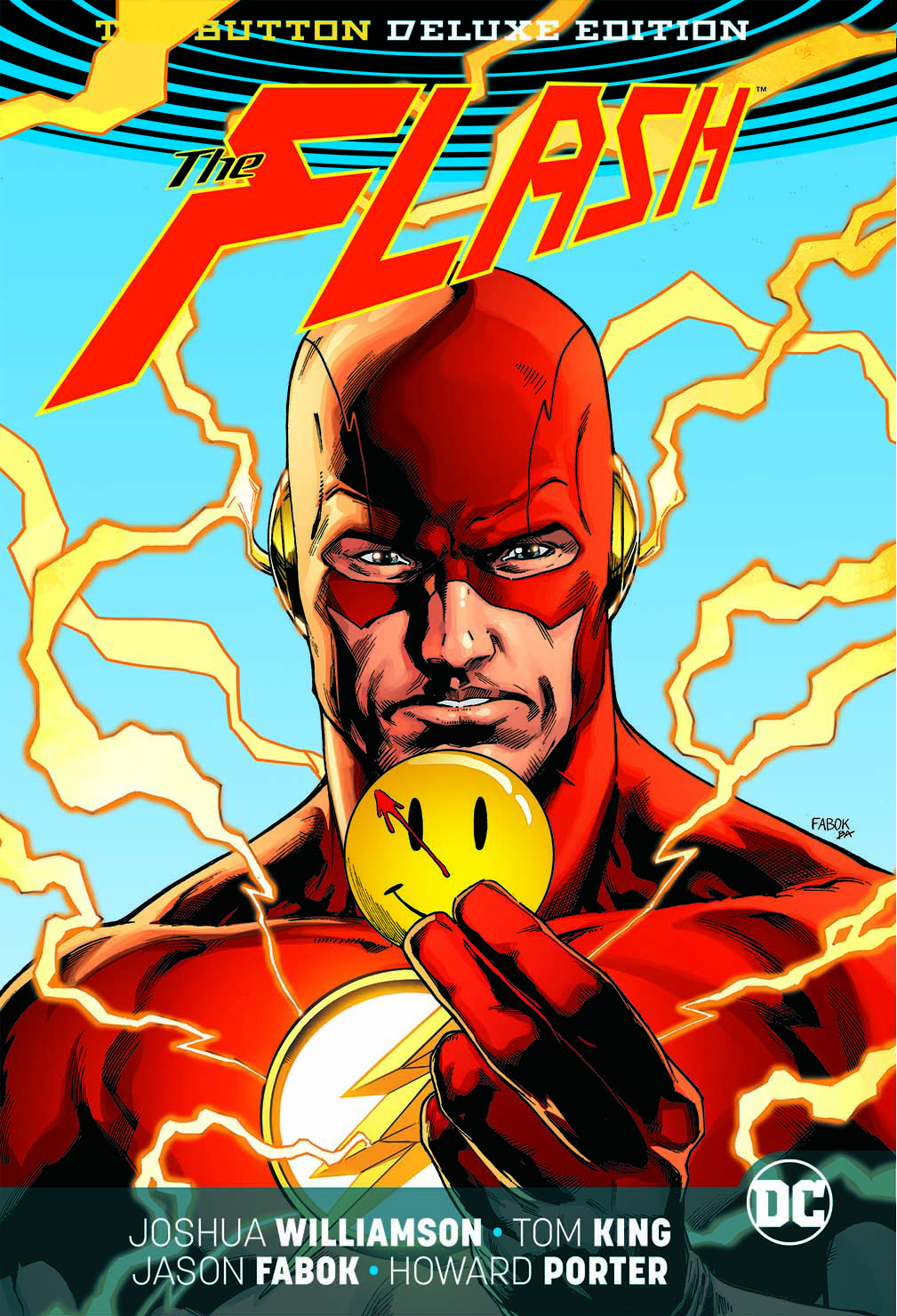 Let the hand-wringing begin! DC Comics first flirted with post-Alan Moore
Watchmen
in the grumpily received
Before Watchmen
series of prequels, and now they plan to integrate the forever-scowling characters into the proper DC Universe. In
The Button
, referring to the blood-stained bit of flair worn by
Watchmen
's Comedian, Batman's investigations send him colliding into the villainous Reverse Flash (who is, himself, chased by the real Flash), leading them all to a showdown in an alternate universe. If this makes sense to you, congratulations—you'll love the lenticular cover. Everything is at stake, of course, including the next year's worth of stories, and the finer details, while lost on those unfamiliar with the previous
Flashpoint
crossover, are not lost on Jason Fabok, the most superhero-y of several credited artists, who intricately illustrates Batman's Batcave(s) with obsessive detail. It's all fun on a grand scale even if the poor characters seem so tortured.
Shop on Amazon
Print Book
Can you resist an 18-inch-tall memoir by one of the greatest living graphic cartoonists? What if I told you that it included, along with an intricate, spiraling, and colorful history of his 30-year career, reproductions of some of his unpublished comics? It's also, according to its official description, "A flabbergasting experiment in publishing hubris," and that Chris Ware pile next to your bookshelf could use a new, oddly shaped object to catch your foot in the middle of the night.
Shop on Amazon
Print Book
It's almost Halloween, and all good goblins need a tome of deadtime stories to read to their hungry young. Enter Mike Mignola, Goblin King to those who prefer to read by jack-o'-lantern's light (self included). This gigantic hardcover collects the final journey of Mignola's greatest creation, Hellboy, as he traverses his destiny and the depths of the underworld. Through these pages lie murder, mystery, silent panels with cryptic, scaly creatures, and—at last—an ending. Plus, there is a robust sketchbook gallery where you can see the master at work, as Mignola writes and illustrates all 300 pages. Raise a goblet of your finest black liquid and bid farewell.
Quiet, there's mischief afoot outside as we near All Hallow's Eve. Mischief and...maybe something more? That crackle just now; it was only a wrapper from a piece of candy, was it not? Or perhaps it was the sound of leaves gnashing under boots. But your boots are by the back door where you left them—at least, they were last you checked.
Happy Halloween!
--Alex
---